Mechanical Prevailing Torque Nuts with Locking Feature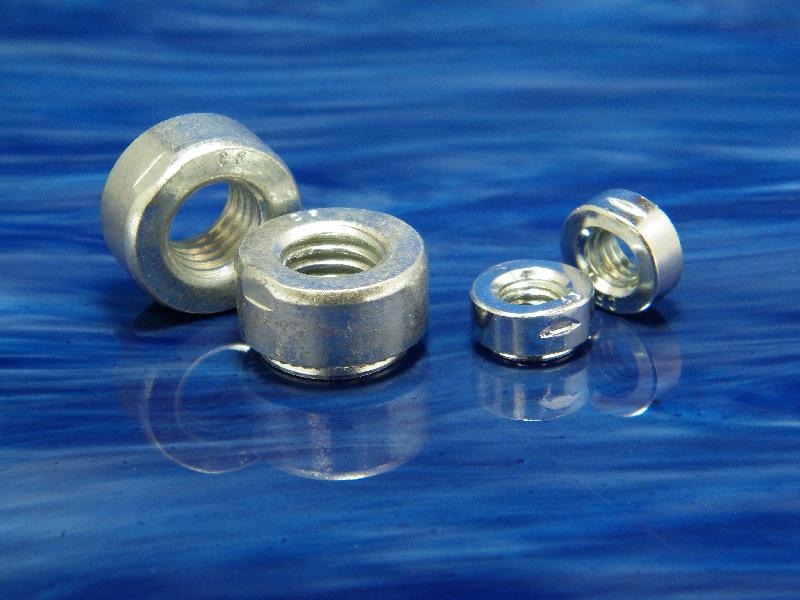 Mechanical prevailing torque nuts with a locking feature, also called prevailing torque lock nuts, are used to prevent loosening in applications involving high levels of vibration, shock, extreme temperatures, or continuous loading cycles. The locking feature is applied mechanically through a controlled distortion of the thread.

Captive Fastener offers a range of mechanical torque lock nuts by special order. Upon request, we can source prevailing torque lock nuts in many widths, heights, thread types, and more to meet the precise needs of your application. We'll work closely with your team to understand all necessary specifications and provide the high-quality products you need with fast turnaround times and competitive prices.
Available Configurations for Mechanical Prevailing Torque Lock Nuts
Sometimes referred to as a one-way lock nut, mechanical prevailing torque nuts with locking features are manufactured from a single piece, usually with a conical top and flat bottom with chamfered corners. Our options have been coated with a UV traceable wax fluid to control torque-tension relationships, with certifications available upon request. Plating options include:
Phosphate and oil

Cadmium

Trivalent/hexavalent zinc

Automotive organic finishes
Other configurations are also available. Contact us today to learn more and get started.
Prevailing Torque Nut Applications
Mechanical prevailing torque lock nuts are designed to provide stability in high-vibration assemblies and applications. Their superior holding ability makes them an ideal solution for securing:
Road and highway signage

Automotive assemblies

Radiators and heating elements

Trucks, semi-trucks, and other transportation

And more!
If you are unsure if mechanical prevailing torque lock nuts are suitable for your application, call 201-337-6800 to discuss your options. Captive Fastener offers a full catalog of fastening solutions, and we are ready to help you navigate our inventory to find the right component for your job.
Choose Captive Fastener for Quality Products & Uncompromising Service
Captive Fastener is the go-to manufacturer and supplier of self-clinching fasteners for industrial equipment, electronics, and other products built by leading OEMs. Our vast network of manufacturing partners, fastener distributors, and global material suppliers allows us to deliver the mechanical prevailing torque lock nuts and other components that you need to complete your assembly on time, in budget, and without disruptions. From self-clinching nuts to self-clinching standoffs and beyond, we'll help you locate your best solution with some samples possible upon request.

Contact us or request a quote today to learn more about how Captive Fastener can support your manufacturing needs or planned application. A highly knowledgeable and helpful representative will be in touch as soon as possible to begin your order.